PRESS RELEASE
5/28/2020
594 E. Jackson Blvd. (Wendy's)
Victim: Xavier Deandre Lemon
PRESS RELEASE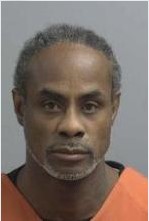 Location: 503 E. Carr St., Dunn N.C.
Date/Time: 3/28/2020 at 00:17 am
Victim: Laverne Smith B/M, age 57
Suspect: Cleophas Johnson B/M, DOB: 01/01/1973
Shooting Investigation:
On Saturday, March 28, 2020 at approximately 00:17 am, Officers with the Dunn Police Department responded to 803 N. Magnolia Ave., in reference to a possible gunshot victim. Upon arrival to the scene, Officers found, Laverne Smith, sustaining from a gunshot wound to his lower leg area. Mr. Smith was immediately transported to a medical facility with non-life-threatening injuries.

A preliminary investigation revealed that the victim and suspect Cleophas Johnson, who are known to each other, engaged in an altercation, at which time the suspect Johnson shot the victim in the lower leg area. After shooting the victim, suspect fled the scene prior to the arrival of officers.

Shooting Investigation Update:
After further investigation by Dunn Police Investigators, warrants were obtained for Cleophas Johnson for the charges of: AWDW Intent to Kill, Communicating Threats, Discharging a Firearm in the City Limits, Possess Firearm by Convicted Felon. If seen, please do not attempt to approach, call 911 immediately.
Location: 800 Tilghman Dr., Dunn NC 28334 (Betsy Johnson Hospital)
Date/Time: 03/15/2020 at 11:47 am
Death Investigation:
On Sunday, March 15, 2020 at approximately 11:47 am, officers responded to Betsy Johnson Memorial Hospital in reference to a deceased person call. Upon arrival, Dunn Police Officers were advised that a female person was pronounced deceased inside a vehicle at the emergency room entrance. The cause of death will be determined by the Office of the Chief Medical Examiner upon the completion of an autopsy. The name of the victim is currently being withheld pending next of kin notification.
There is no evidence to suggest that there is a threat to the community.
Anyone with information about the incident is asked to call the Dunn Police Department at 910-892-2399 or 910-230-3556 or 910-893-9111.