I-95 Widening Project Highlights
12/15 Update: More cameras, speed sensors and other equipment designed to improve the safety of the work zone are being installed along a 16-mile stretch in Cumberland and Harnett counties where a state transportation contractor is widening Interstate 95. The N.C. Department of Transportation is deploying the equipment to better gauge traffic conditions in real-time and more quickly inform drivers via changeable message boards of detours due to a crash or other incident. That's why NCDOT is also installing alternate I-95 signs, which will direct people to use a preplanned detour route, such as U.S. 301, if there are closures in the work zone causing long delays. "The use of this additional equipment will improve traffic conditions during the I-95 reconstruction," said Greg Burns, the department's Division 6 engineer based in Fayetteville. "This technology also will result in a safer work zone for drivers and workers." The department's Statewide Transportation Operations Center will monitor the cameras and speed sensors and update the message boards as needed within the work zone.
Planning and development are underway on a project to widen about 25 miles of I-95 to eight lanes between I-95 Business/U.S. 301 (Exit 56) in Cumberland County and I 40 (Exit 81) in Johnston County, including all of Harnett County. Proposed work also would include rebuilding at least six interchanges with new overpasses, loops and ramps that meet modern standards. Additionally, service roads would be realigned or shifted to meet modern design standards.
An important part of the local, regional, state and national transportation systems, I-95 serves commerce, residential populations, the tourism sector, the military, school systems and medical centers, among other institutions. The interstate is also part of North Carolina's hurricane evacuation route system.
The portion of I-95 to be widened between exits 56 and 71 is being funded in part by a $147 million federal Infrastructure for Rebuilding America (INFRA) grant. This 25-mile section is the oldest and busiest in the state for I-95, reaching nearly 60,000 vehicles a day in southern Johnston County, according to a 2016 survey. According to the I-95 Planning and Finance Study Environmental Assessment (2012), congestion will increase and drivers will experience traffic jams, if the highway is not widened.
The project would ease congestion and accommodate future growth in traffic volumes, ensuring that I-95 remains a vital part of North Carolina's transportation system.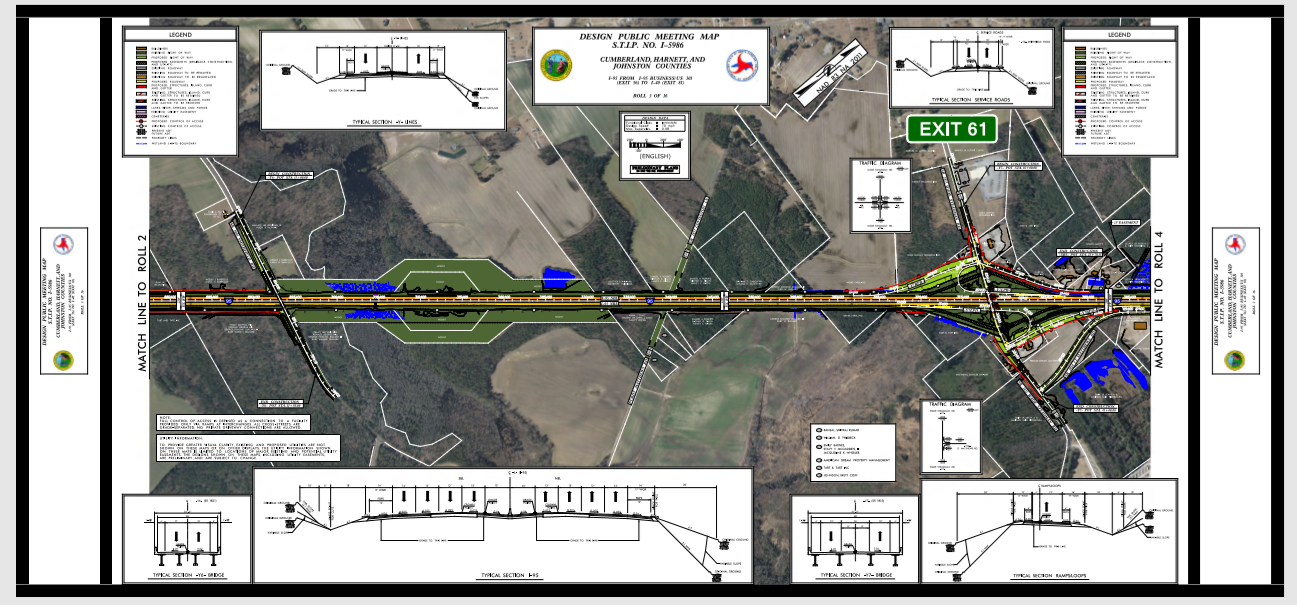 COVID-19 Related Delays
Due to COVID-19 the I-95 widening project from Exit 71-Exit 81 has been delayed until July of 2021, when they will award a construction contract. This change comes from the Governors Stay-At-Home order and people across North Carolina taking lifesaving measures to stop the spread of COVID-19. This means traffic volumes have plummeted, causing at least a $300 million budget shortfall for the N.C. Department of Transportation (NCDOT) for this fiscal year (ending June 30). We will attach a link when the project page on NCDOT has been updated!