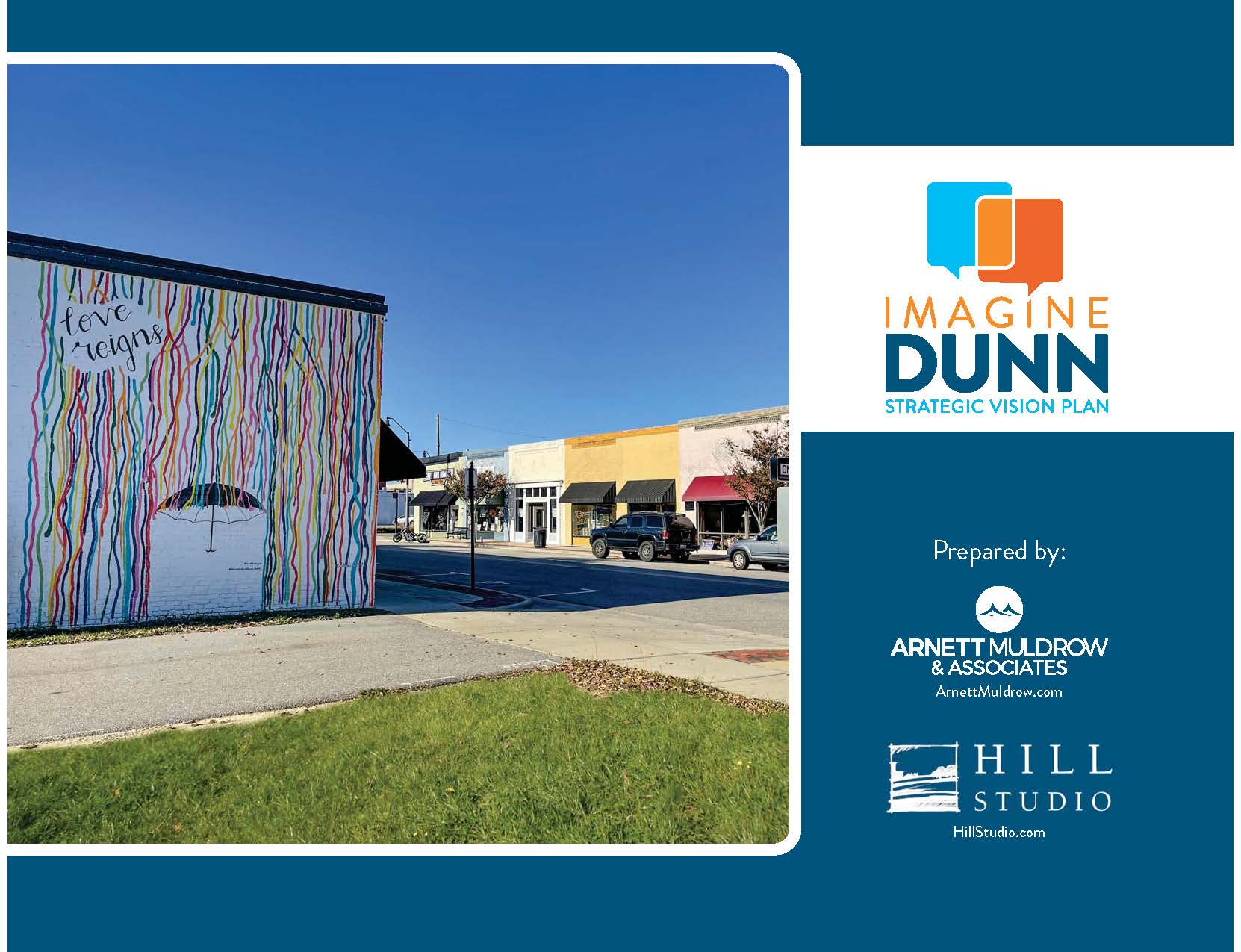 In 2019, the City of Dunn and the Dunn Area Chamber of Commerce partnered to form the Dunn Vision Group (DVG). On December 19, 2019, the Dunn City Council authorized the City Manager to publish a Request for Proposal to assist the DVG in conducting a city-wide visioning process to prepare a citizen driven 20-year Vision Plan and an implementation Action Plan. Arnett Muldrow & Associates, in conjunction with Hill Studio, was selected to conduct the process and write the final plan. The Dunn Area Tourism Authority became a major part of the plan through participation and a marketing grant of $5,000.
Despite the pandmic, outreach was conducted and extensive public input received, including 866 surveys, numerous focus group meetings, two workshops, and many meetings (remote and in-person) were held between the DVG and Arnett Muldrow/Hill Studios. The final Imagine Dunn Vision Plan was completed June 1, 2021 and adopted by the Dunn City Council at a special called Joint Meeting, with the Dunn Planning Board, Dunn Area Chamber of Commerce Executive Board, Dunn Area Tourism Authority and DVG, on July 1, 2021.
The plan can be be viewed here.
The Dunn Vision Group (DVG) met in August and decided to move forward with the Imagine Dunn Stategic Vision Plan, they would narrow the 62 strategies to the top 10 priorities. DVG presented that recommendation to the Council at the October 25, 2021 meeting and the Council concurred. DVG also added in the list of priorities those strategies that are already in progress. The top 10 priorities and those strategies in progress can be viewed here. City Staff and DVG will now research and present findings to Council for further consideration.
DVG continues to meet regularly to keep updated on the achievements of the various entities on implementing the Imagine Dunn Strategic Vision Plan. The most current update from July 2023 can be found here.